Map 4 - Mangotsfield
This area is one with historic significance for those with an interest in the old Midland Railway. Two original horsedrawn dramways were built to supply Bristol and Bath's growing appetite for coal to create power. They both opened in the 1830s and were connected via spurs to many of the local pits.
Within a few years, the route from Mangotsfield to Bristol was reconstructed for the use of steam trains. But the route south to the quays on the River Avon remained horse-drawn until 1904.
The Midland Railway was not connected to Bath until a new branchline was built in 1869. The new railway was constructed on a route parallel with the older dramway between Mangotsfield and Bitton. Long sections remain accessible as footpaths deserving exploration.
Mangotsfield to Warmley: 1.5 miles (2.5 kms)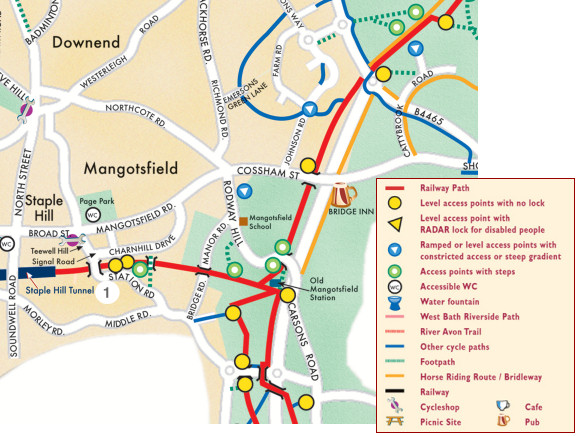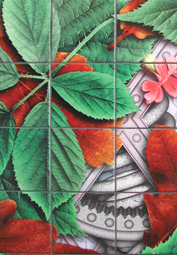 1.
Tiles by Sebastian Boyesen decorate the walls at Station Road and Stanley Road underbridges a short distance away from the Path. The scheme is based on local flora and fauna and uses a new technique for digitally designed printed tiling finishes.
This is one of many pieces of public art that have been placed along the Railway Path. This and another dozen or so pieces enhance the Ring Road Scheme in its second stage. This piece was commissioned by South Gloucestershire Council Arts Development Unit: (01454) 865835.
A leaflet – Public Art Features (Ring Road Stage II) – is available from:
Arts Development Service
South Gloucestershire Council
Kingswood
Bristol
PO Box 299
BS15 0DR